I've seen some pretty varied opinions and approaches to the whole: online learning debate over the past week and I wanted to pull some support together for teachers (and parents perhaps!) that might help. I have done a lot of online learning projects over the past 15 years, some local, some international, and the principle is pretty clear: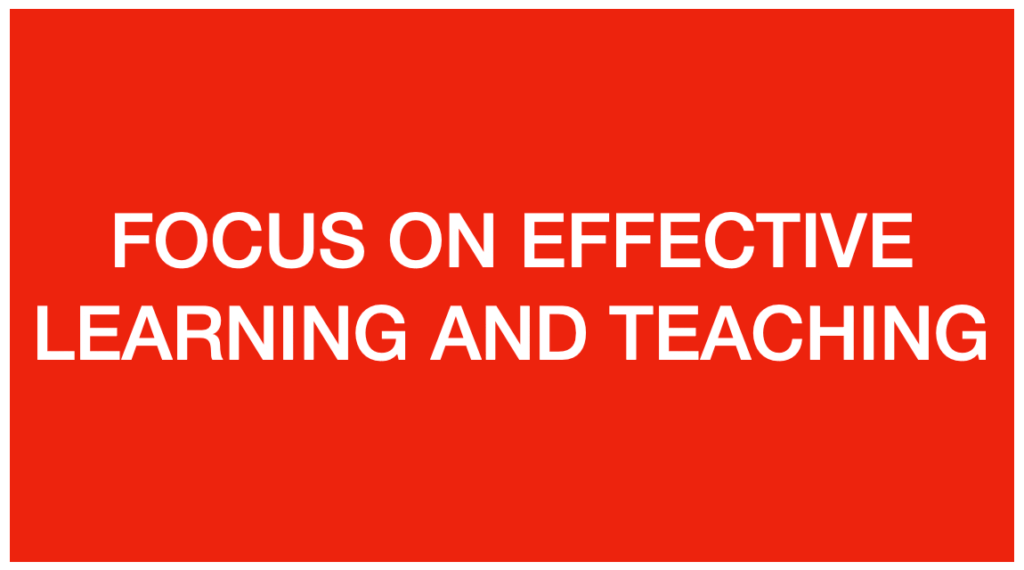 That might seem an odd thing to say but I am seeing all sorts of crazy posts where people are thinking that you need to recreate a real classroom through the medium of the internet. Odd.
Can we just get on with it please?
Why do teachers stand at the front of the class at the start of most lessons?
'Well it is to explain to the children what they have to do'
Ok, so what we are actually saying is that the children need to be shown what it is they are learning about in the lesson at the outset and the teacher as the provider of knowledge is best placed to do that. But of course that has its drawbacks doesn't it? If you have 25 children in a class and you explain to them what it is they will learn you can bet your bottom dollar that some will get it in two seconds flat, some will be working at your pace and some will be lost at the point where you said 'good morning'. So whole class teaching, all at the same rate is not actually the most effective way of introducing a lesson, is it?
If you could introduce the learning at a pace that the children want, in the way that they need it, individually, that would be better wouldn't it? The 'early adopters' could get on with doing some examples pretty much straight away to check if they really understood the concept, the majority (if the lesson is well pitched) can work through at a more steady pace, and the children who have struggled to understand can work through the introduction more slowly. In fact, having a teacher you can rewind and listen to several times, rewatching a worked example more than once is a useful way to learn isn't it? I can honestly say that when I have resorted to Youtube to fix something at home or learn how to do something on my computer I VERY rarely just watch it once then do the new skill (I also tend to end up phoning a professional but that is another story…)
So with online learning we actually have the opportunity to work in this more effective way. I have seen people describing how they are doing full on live lessons all day long with their classes. Great for you. I imagine you can hand on heart say that the children attended but was it the most effective use of the technology for learning?
If I can make worked examples of what I want the children to learn in a digital form, a crib sheet or a screen recording (OK a full on dance video for PE) and set it as a learning task along with some work for the children to do, it changes the dynamic of the classroom completely. I would make the example before the lesson of course (see links below about how to do this really easily!) and post it in the online learning space. Do I want all the children doing the lessons at a specific time? There is some anecdotal evidence that creating a structure for children to stick to while they are working at home is really helpful in keeping them engaged. However, schools must have some flexibility with this. In many households it may not be possible to do work at a specific time due to lack of devices, connectivity, support from adults etc. (especially with multiple siblings all expected to be online learning). As always, think about the environment that the learner may be in and adjust expectations accordingly. An overview of tasks for the week, when they will be released and when they should be 'handed in' is a useful way for pupils and their parents to structure their time according to personal situation.
This is REALLY helpful for parents too. They can see if their child is actually meant to be doing something and the expected learning from the teacher is there to watch through if they want to support their child. It isn't time specific and a well crafted intro resource avoids all those stumbles and side tracks that a 'live presentation' inevitably include.
Guide on the side
Yes it is a cliche but it is actually really important with home learning. One of the biggest findings from the previous school shutdown was that home learning was patchy. Some pupils were well engaged and many were not (evidence suggests that deprivation indices were a good predictor of this). Where schools were able to offer live support, face to face through Zoom, Teams or whatever, pupils were more engaged. Taking what was discussed above, where in the lesson a teacher's live support is most effective, you would be better incorporating live support in the practice or plenary parts of a lesson, not the introduction. Being available to support pupils as they are working through, addressing learning blocks, misunderstandings and confusions is where most teachers spend a lot of their lesson time anyway, so do the same online. Trying to manage a full on live lesson with 25 children on screen and focus support in this way is cumbersome. That isn't to say a quick 'hello' everyone each morning to set the tone for the day isn't useful, it just probably isn't the best way of managing the nitty gritty of learning.
The support can be as simple as text chat within a learning environment but some services such as Showbie allow voice notes and annotation on handouts and tasks. Pretty much all online platforms offer the ability to upload a voiced over screen shot at the very least (see video guides below). A child can 'hand in' what they are trying to do when they get stuck (some services allow online editing, some simply allow a photo upload) and the teacher can respond in kind with bespoke support. That process already happens in a real classroom but face to face. What does a teacher do when several children are all making the same mistake? They stop everyone and re-address the learning. Online platforms can allow this through an upload of a new worked example or a live input at that time. Keeping specific, bespoke support available to children appears from the first lockdown to have helped with keeping them engaged and supporting their mental health. Many schools are building in teacher availability during lesson 'windows' to support learning alongside a specific update meeting as 1:1 or in small groups throughout the working week.
BUT DO NOT EXPECT ALL CHILDREN TO BE "IN YOUR CLASS" ALL THE TIME
I haven't got virtual crayons
The sharing of devices, lack of devices and, importantly, lack of connectivity, has been well discussed through the media over the last 9 months and any facebook feed will be full of parents bemoaning that their children need some help whilst they are on important business Teams calls. So taking a step back from the issues, we need to think about what learning we really want to keep the children focussed on, what is the core? Then what can we offer wider and in a context of what children will have available at home. Don't expect children to be able to spend ages online researching a project just because they made it to the online platform. Their access may be on a shared device and sporadically timed with limited data to play with.
So what to focus on? I am am very aware that I am writing this post with a Primary teacher's eyes but many of the suggestions below also apply to secondary.
Reading, Writing and Maths
Simple really isn't it? The 'basics' as they are usually known are still the bedrock of what we want our young people to be ale to do when they leave school and there are plenty of ways in which we can keep that focus. I have seen nearly every school I have been working with use their platforms for sending out spellings for example. Getting the children to learn them but also write them out and use them to create sentences. Yes we do that in class, so why not at home? I have never been a massive fan of practising handwriting but I am very well aware that the children will be expected to write by hand in lessons and tests for the foreseeable future once we get back into classrooms. Writing stamina builds up, spellings are supported through muscle memory. Writing is an easy one for schools to encourage and doesn't require the child to be online for hours. They can write on a piece of paper (back of a cardboard box for all I care) and upload an image of their work to the online space. Keeping the children writing and holding them to account when they don't write much is incredibly important (if they are not doing what the teacher knows they can). And of course the opportunities to write about things are more personalised. You can post video clips, texts and pictures to write about or you can focus their attention on things that they may have around them. Not every child has a great LEGO set that they can create a narrative around but giving the children regular writing tasks keeps a level of skill and physical stamina if nothing else. For younger learners developing language through play is equally as important and bringing in home toys and objects can be really engaging for young children.
Reading is more of an issue. Many people (children included!) do not like to read onscreen and their access to a device might be limited. Additionally the screen may be small, on a phone for example. On the other hand there is also the problem of households where the children have limited access to literature so the online platform may be the main source. Take a balanced approach. Lots of short reading tasks rather than a long text may be easier for those with limited screen time to get access to. Or it might be that you just need to get some books out to the children and then use them as a class reader.
Maths is one of the easier online directed tasks that can be supported. It is quite straightforward to create an online set of maths tasks either through a screen shot or a photograph. For younger learners various counting and adding tasks can be achieved by encouraging use of household objects and toys. Moving up the school and simple maths operations can be generated. I always used to start every day with the maths element of countdown as my morning work. Four 'tasks' with increasing complexity of target and base numbers allowed children to work through at a differentiated level with all children involved. Quick to set up but brilliant for not just challenging basic mental arithmetic but also offering an opportunity for children to explain their thinking. Walk through screen videos are easy to prepare (see below) for supporting ways of working things out accompanied with lots of working examples for children to practice on.
Sounds a bit limited
The school curriculum is wide ranging and covers a huge number of topics even within a half term period. Schools cannot offer that same wide ranging learning experience to pupils at home. However, there is an opportunity to include plenty of examples each week that do extend their range of learning. A well chosen Youtube video or a fantastic child friendly website is a brilliant stimulus for children to do a piece of research or extended writing. All the caveats above need to be considered but if children are accessing an online platform, they clearly have some level of online access. Services such as Youtube are optimised to reduce data consumption (compared to you uploading videos) and a five minute film about the life cycle of the caribou (I'm sure there must be one) can be the stimulus for a range of tasks across subjects without having to keep going back to the screen (although they may need to watch more than once).
Keep it focussed
The key messages that I wanted to share in this post are based around customer service, thinking about what works for the child who you are trying to engage. What might their barriers be? What support can they get at home and how can you as a teacher help support that? How can we give them some level of accountability so that they do the work? All of this can be achieved to a greater or lesser degree by:
A well laid out work plan for the week that is accessible to parents and children
A focus on regular practice of the basics in maths and english – often offline tasks
Awareness of issues around access to texts/resources that may take a while to read and are on screen
Regular direct contact with each child either in small groups or 1:1 (video) to encourage engagement and accountability
Teacher feedback and support available online while children are working in school hours
Appreciation that the school timetable might not fit with access and availability at home so building in flexibility with deadlines
Using existing web content to stimulate work
Lots of schools are using existing online services that they buy into to support spelling, reading maths and more. The advantage of these is that they often have built in feedback and teachers can access progress data. But teachers can also create their own resources that can give feedback and some level of assessment feedback. Resources such as Socrative cost money but allow teachers to create quizzes that give some feedback on pupil progress. They can integrate into online platforms really easily. Alternatively Google Forms can give teachers a free(!) albeit more simplistic way of directing students through content. It is heading more down the 'they all have great access' route but they are worth looking at.
But whatever you are doing, do not try to just replicate your real school day. In that situation the children are in your care and you are able to organise their time and resources for them. When they are at home they are in a completely different situation and even the most focussed pupils will have their engagement levels challenged….just like in a normal school day!
Below are some videos that I have created to show how to create bespoke content on an iPad or even a computer that can support your learners.
If you would like any specific 'how to' guides or help with ideas, please yell, I have supported home learning across hundreds of schools over the past 20 years and the options are endless!
Playlist to support digital resource creation:
Overview of key considerations for effective home learning: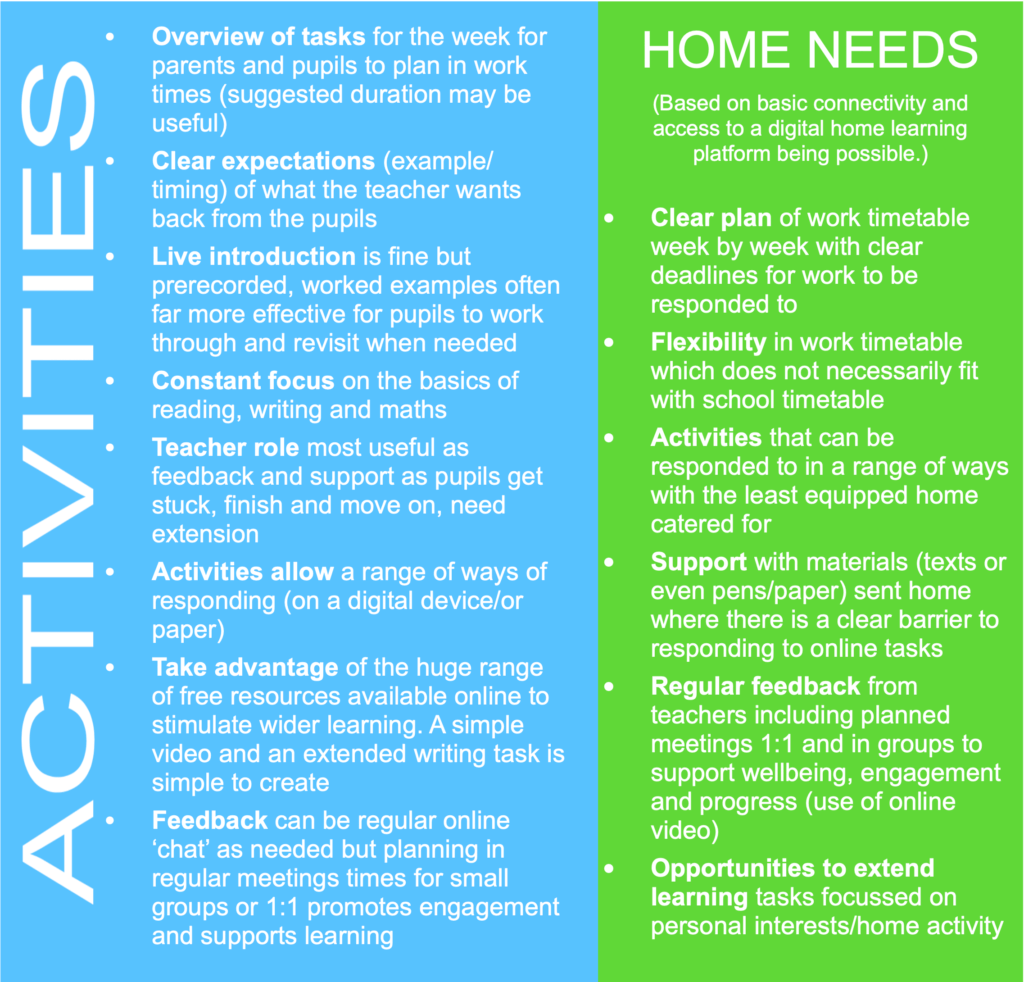 Guidance from DfE for assessing your home learning offer:
https://assets.publishing.service.gov.uk/government/uploads/system/uploads/attachment_data/file/951613/Review_Your_Remote_Education_Provision_framework_-_Schools.docx